All the talk right now is about digital retail. Some experts are stating that the COVID-19 pandemic has launched digital retail forward two years in just two months. Most experts agree that there is no returning to where we were.
Every dealer must be committed to being the very best at digital. Most retailers that haven't perfected an online strategy are falling by the wayside. There is a very quick bifurcation happening within auto dealers — although one camp is having extreme success, the other camp has been caught unequipped and is either playing catch-up or marching toward a going-out-of-business sale.
Choosing to be very good at the other aspects of the business while ignoring digital retail, or putting their toe in the water, isn't going to work. If you look at the different outcomes of Nike and Under Armor, there are similarities to what's happening in the retail car business. While Nike was building out the very best in e-commerce, Under Armor was investing in wearable devices that collect data. Today, Nike is thriving and is less dependent than ever on traditional retail. Under Armor is just fighting to stay afloat.
Things aren't going back to the way they used to be. If your dealerships haven't already committed to being the very best at digital retail, they have to commit now or face certain peril.
To be great, we probably need to know exactly what digital retail is and what the measurements for greatness are. Defining digital retail is surprisingly tricky. Frankly, trying to nail down a definition is like trying to nail Jell-O to a tree. It moves, takes on different shapes and doesn't have a clear definition or an easy way to succeed.
Every customer is already a digital retail customer. On average, they spend 19 hours online before they come to the dealership. Digital retail is all about how you handle that customer after they get to the dealership. Their education level has changed, and their expectations have changed, too. So maybe digital retail is something to do with a software piece that allows your employees to engage with the customer differently when they enter the dealership.
Digital retail is also about advertising. Ideally, you want to reach customers who are in the market by driving your message to them ahead of your competition. You want them to visit your website and keep your dealership top of mind for their next purchase. That means digital retail has to involve your website: the message it carries, its functionality and its ability to convert browsing shoppers into leads.
Digital retail has to include BDC, and that department's ability to manage leads converts leads into showroom appointments or even sales.
We recently had a dealership engage us who wanted to take their digital retail to the next level in response to their customer's needs. When we dug into what they were looking for, what we discovered was that this dealership wanted to streamline the in-dealership process for its customers. For them, that meant responding to their customers' desires to stop being thrown like a football around the dealership in an old-school back and forth process. They wanted to remove the F&I turnover step to speed up the transactions.
Thanks to the pandemic, digital retail may now include pickup and delivery processes for customer cars — sales and service. It also encompasses the ability to do a remote delivery with a digital F&I process and digital signatures.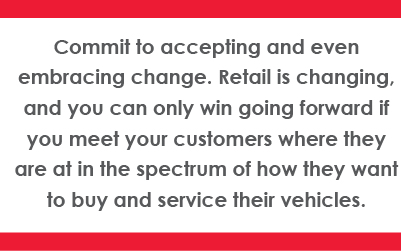 Digital retail now includes all these things. That means the idea of an internet department in a dealership has become a funny remnant of the early 2000s. It's more accurate to think of your entire dealership as an internet department.
The way the customer is shopping and the way they want to engage with your dealership has morphed for sales and service. It's time to stop pushing customers into our traditional funnel and shift your mindset entirely to how to make it easy for them to do business with you.
Get customers the information they want, when they want it, and in the format they want. Allow them to take steps in processes that are comfortable for them. An internet sales process that fosters new customers and draws them to the dealership while they are doing their research will be successful. If that experience is consistent and earns their trust, the dealership can facilitate their "custom" experience. Examining outdated processes is hard work and requires a lot of change. It also doesn't provide the instant gratification of a beautiful, up-to-date showroom — so it requires more strategy and patience.
Once again, in our business, change is constant. The speed of change only accelerates. Most dealerships already have some building blocks in place for digital retail. But the first step in creating a comprehensive, successful strategy for digital retail isn't defining it. It's accepting that it is part of everything we do in every department, recognizing that needed changes aren't going away, and there is no silver bullet.
Like every other challenge a dealership faces, this one is going to start with a comprehensive game plan of processes executed by a well-trained winning team with clear goals and objectives. That team will be led most effectively by a leader who is passionate about service, including service to employees. You will have to push down the mentality that says, "but that's how we've always done it." You will have to remove some core tenets of our industry, like "get control of your customer," and take a fresh look at every process in the dealership. Technology can augment the well-defined process your well-trained team is following, but recognize that every technology fails without the right implementation plan, and every process fails without accountability.
Most important of all, commit to accepting and even embracing change. Retail is changing, and you can only win going forward if you meet your customers where they are at in the spectrum of how they want to buy and service their vehicles.
At Automotive Development Group, we put the emphasis on training. For more information, please contact Francis Fagan with Brown & Brown Dealer Services | Automotive Development Group at 312-608-4979 or
ffagan@adgtoday.com. Francis is the regional training director for Illinois and Indiana. For our training calendar and to meet our nationally renowned trainers, visit AutomotiveDevelopmentGroup.com.